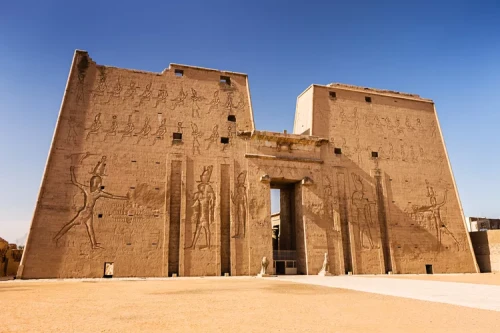 Facts about Edfu temple
Edfu Temple is an Egyptian temple located in the city of Edfu, which is situated on the west bank of the Nile River in the Aswan Governorate. This temple tells the history of Egyptian gods and contains many important monuments, therefore it is considered one of the important sites for tourism in our Egypt tours. The temple was constructed in the Ptolemaic Kingdom between 237 and 57 BCE. The temple is dedicated to the god Horus, who was worshiped as the patron deity of Edfu.
The temple complex covers an area of approximately 40,000 square meters and includes the main temple building, several smaller satellite temples, a large pylon gateway, and a sacred lake. The main temple building is made up of a series of interconnected halls and chambers, All these historical landmarks will be clear during your Egypt day tours.
The exterior walls of the temple are adorned with reliefs depicting scenes from the Egyptian mythology associated with Horus and his conflict with his uncle Set. One of the most famous reliefs depicts the battle between Horus and Set in which Horus defeats his uncle and becomes the ruler of Egypt.
History of Edfu temple
The temple complex consists of a large Hypostyle Hall, a sanctuary, a Naos (or shrine), and a number of smaller rooms and chambers. You can use your time in Aswan and take a sail boat to Aswan botanic garden, you will be entertained with the plenty of museums, trees, flowers and the view of the sea.
The Edfu Temple is one of the most visited sites in our Egypt Luxury tours and is a popular stop of Egypt and Nile cruises tours. It is believed to be the second oldest religious site in Egypt after the Giza Pyramids, choose one of our amazing Egypt travel packages to explore all important historical and coastal sites in Egypt such as the city of Luxor and Aswan.
Edfu temple description
Edfu temple has two levels with a total of 38 columns supporting a massive roof. Of particular interest are the depictions of Pharaoh Ptolemy XII smiting his enemies and offering sacrifices to Horus. Do not miss follow our your Egypt blogs to be more updated about Edfu temple.
Inside the temple, there are several well-preserved chambers and halls. One highlight is the Sanctuary of Horus, which contains a granite statue of the god seated on a throne flanked by two statues of Isis. Another must-see during this amazing Egypt Classic tours is the Hall of Offerings, which features an array of objects used in religious rituals, such as altars, incense burners, and statuettes.
What You Need To Know Before You Visit
There are a few things you should be aware of before going if you're considering visiting Egypt's Edfu Temple on your Aswan day tours. First and foremost, the temple may be found at Edfu, a city that is roughly midway between Luxor and Aswan. From either of those cities, you'll need to take a bus or cab to go to the temple. Check out our Luxor day tours if you're interested in learning about new ancient Egyptian attractions. Our tours will show you the greatest locations to go and things to do, including a day trip to go hot air balloon rides so you can view Luxor from a different perspective.
The temple is obvious as you arrive at Edfu. Located in the city's heart, it is the biggest structure there is. The temple is best visited when it's not too hot outside, which is early in the morning or late at night.
You'll have to take your shoes off when you first enter the temple. Since it is regarded as sacred, the floor. Besides from avoiding touching any of the sculptures or carvings within the temple, you should also be considerate to other guests.
There is a lot to see during our Egypt Budget tours so it's worth taking your time to explore. There are three main sections of the temple: The Sanctuary of Horus, The Chapel of Hathor, and The Birth House of Horus. Each section has its own unique features that are worth seeing.
Conclusion
The Edfu Temple is one of the most popular tourist attractions in Egypt, and for good reason! This temple is a stunning example of ancient Egyptian architecture and is packed with a fascinating history. If you're considering visiting the Edfu Temple on our Egypt Chriatmas tours, be sure to read this article first so that you know what to expect. You won't be disappointed!