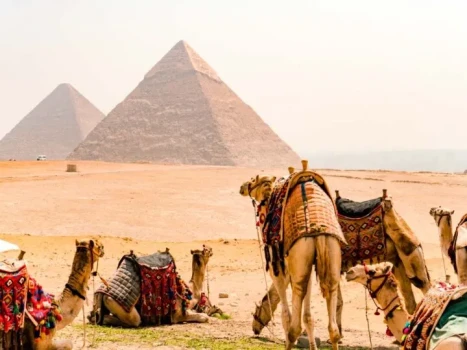 With a fascinating history that reaches back to the dawn of civilization, Egypt is considered the oldest travel destination on earth not only because of its ancient treasures and rich history but there is much more to this country than you might expect. Egypt is worthy of your bucket list because of its dreamlike waters and golden sand beaches, as well as its magnificent architecture and natural cures. Here are 10 reasons why Egypt should be your next travel destination.
10) Scuba diving
Bright corals and colorful, distinctive fish abound in the Red Sea, making Egypt one of the best in the world for wreck diving, cavern, cave & grotto diving, shore diving, advanced diving, and best-value diving.
9) Beaches and shores
Home to both the Mediterranean Sea and the Red Sea, Egypt offers beachgoers sunshiny, lazy days on the sand. even in winter, sitting on the Red Sea's white sand beaches and soaking in the sun is a good opportunity as it's never too cold.
8) Therapeutic tourism in Egypt
As 85% of Egyptian land is desert, Therapeutic tourism has long been popular in Egypt. The hot springs here are said to aid in the treatment of respiratory disorders, and renal, bone, and skin ailments. Many people believe that the mud can help them with their skin problems. In Egypt, sand-burying massages are also popular for treating physical injuries.
7) camping
The Egyptian Western Desert is a pure, isolated environment where you may camp, go on Jeep safaris, sandboarding, and see the Milky Way and an unlimited number of stars at night.
6) Egyptian cuisine
Egyptian cuisine has been influenced by neighboring Middle Eastern countries, resulting in flavorful meals. Not only is Egyptian cuisine, but it also influences the country's culture. In moments of joy, necessity, and struggle, Egyptians turn to food. It's the focal point of any gathering.
5) It's one of the cheapest destinations
If you are a budget traveler Egypt will be Your main destination as it's relatively easy on the wallet compared with European countries. Egypt is more likely to travel to Southeast Asia.
4) The Beauty of the Weather
Even in dead winter, Egypt won't depress you, because of its perfect climate, As the sun is always shining and the skies are always blue.
3) Religious tourism
While the Ancient Egyptian religion is what most people think of when they think of Egypt, the country is also extremely important to Abrahamic religions. Climb to the summit of Mount Sinai in Egypt, where Moses is said to have encountered the Burning Bush and received the Ten Commandments. You can also follow the Holy Family (Jesus, Mary, and Joseph) on their journey from the Sinai Peninsula to mainland Egypt and back.
2) A Nile cruise to Luxor
Luxor, after Cairo, is Egypt's second most visited tourist destination. This is due to magnificent monuments including Karnack Temple, Luxor Temple, Valley of Kings, Valley of Queens, and many others. Visiting Luxor means that you had seen the world's most famous antiquities.
1) Ancient Civilization
Ancient Egypt is one of the world's most fascinating and oldest civilizations. The only surviving ancient wonder, the Great Pyramids of Giza, together with the sphinx at the base of the Giza plateau, are the iconic image of Egypt as well as ancient Egyptian monuments and tombs, continue to get the attention of top archaeologists and, of course, the rest of the globe. Remains of the ancient Egyptian civilization are still being uncovered today.